I was watching Generation Islam on CNN and came across this, pretty interesting.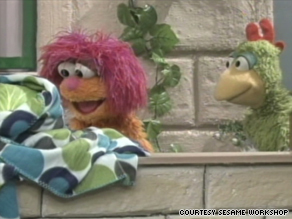 Sesame Street with CEO Gary Knell is trying to use Muppet's to foster a culture of understanding worldwide, beginning with children.
In the Palestinian territories, Muppet's teach nonviolence on a local version of Sesame Street called "Shara'a Simsim." Sesame Workshop calls this effort "Muppet diplomacy."

"This means using our characters — characters children love and parents trust — to bridge some of the world's most intractable divides," Knell said. "Muppet's give children, and the parents who watch the show with them, a chance to explore other cultures from the safety of their living room, where no one will criticize them for being curious."

Daoud Kuttab, executive producer of "Shara'a Simsim," knows that the Muppets are highly effective communicators. "Anything the Muppets do, anything they say, any idea they transmit, the children accept."

Semase Street has worldwide influence, In Tanzania, Muppet's teach malaria prevention. In Egypt, Muppet's stress the importance of girls' education

In the Palestinian version, "Shara'a Simsim," direct references to the region's political situation are not included. The Muppets like Haneen and Karim show pride in their own culture but also understanding that there are differences in the world.
Related articles by Zemanta